UNION STATION ADULT CENTER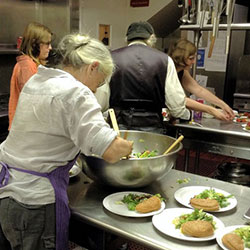 Union Station Adult Center provides over 50 homeless men and women with a safe shelter in Pasadena. The Center houses residents and also provides them with services such as support for recovery from substance abuse. Volunteers of the Orange Grove Friends Meeting rotate with other local non-profits to provide residents with evening meals.
---
CRAFTY QUAKERS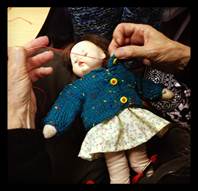 Crafty Quakers is a group of Friends/friends who gather monthly to work on craft projects, have lively discussions, and generally just enjoy each others' company. Each person brings a project of their choice. Crafts that our members have worked on include knitting, needlepoint, quilting, beadwork, and mending. Also, making collages and jewelry. And, yes, some of those who join us are men. Read on…
---
FESTA DI GIOIA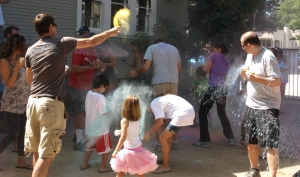 Festa di Gioia means "Festival of Joy" in Italian. In 2014, our Festa di Gioia was a series of multicultural festivals for anyone out for fun, both within the Orange Grove Meeting and in the surrounding neighborhood.
Our first event featured Polish-style plate smashing, Greek mosaic making, and wonderful food by Chef Edward Ferry. The beautiful mosaic that we made from the broken plates decorates the courtyard wall of our Meeting House. Read more…
---
ANIMAL KINSHIP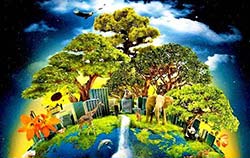 Our Animal Kinship Committee is concerned with the wellbeing of our animal neighbors. We are a committee of the Orange Grove Friends Meeting and also a registered non-profit organization. We provide tasty vegan and vegetarian dishes for gatherings of Friends and also for homeless people at the Union Station Adult Center. We write articles on promoting the well-being of animals for various Friends' publications and network with other animal welfare organizations. Occasionally, we even bring animals for the children to meet at Sunday School. Feel free to join us for a delicious vegan meal, our committee meeting, and fellowship on the fourth Sunday of each month at 1 pm. Read more…
---
PEN PALS FOR PRISONERS PROGRAM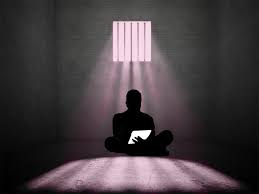 Our program of corresponding with prisoners helps to relieve their loneliness. When a prisoner is reading or writing letters, as one prisoner put it, he can "forget where he is." We, on the outside, can encourage inmates to take classes and prepare for release. Our letters can create a positive relationship with another human being. And, most importantly, we can give hope.
Corresponding with prisoners can be particularly rewarding as we watch them improve in their outlook on life. And, in few other relationships will we be so appreciated for such a simple activity as writing letters. Read on to find out how you can become a prison pen pal.
---
FRIENDS WESTERN SCHOOL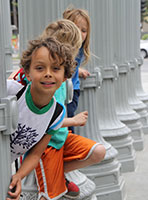 Friends Western School is a Quaker elementary school housed on the campus of Orange Grove Friends Meeting. The school is founded on the belief that there is an inner light in each of us, which in turn inspires an ethos of support, respect and kindness. The curriculum supports academic growth as well as social and emotional development. Families come from a range of religious and non-religious backgrounds. Friends Western is one of 81 member schools of the Friends Council on Education. Read more…
---
WISDOM ARTS LABORATORY
Wisdom Arts Laboratory offers children's art classes on the premises of the Orange Grove Friends Meeting at 520 East Orange Grove Boulevard in Pasadena. Children may take classes in drawing, painting, sculpture, singing, dance, and other arts. Art camps and childcare are also offered. The mission of Wisdom Arts Laboratory is to foster imagination, critical thinking, and good citizenship. Read more…
---
RELATIONSHIPS WITH THE WIDER QUAKER COMMUNITY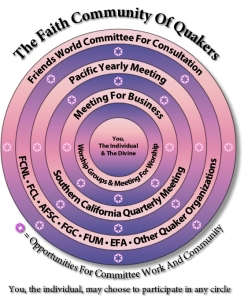 Our Meeting participates in national and international Quaker organizations. In addition, we participate in two regional organizations of Quaker groups, the Southern California Quarterly Meeting  and the Pacific Yearly Meeting. These regional organizations are groupings of Quaker Meetings which follow the unprogrammed Sunday Meeting format that Orange Grove follows. The unprogrammed format is an hour of silence in which we await what Spirit may reveal to us and listen to the insights which other Friends may share. Click for a listing of other unprogrammed Friends Meetings within the region and for related information.