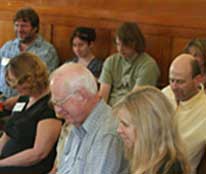 Welcome to the Orange Grove Friends Meeting. We are a part of the Religious Society of Friends, also called "Quakers."
On Sundays at 11 a.m. we gather in silence, with no outward ceremony, in expectant waiting on God. The fundamental Quaker idea is that there is that of God in every person. "God" can have many meanings, and expressions like "Inner Light," "Spirit," and "Divine Presence" also express the idea at the heart of Quakerism.
We worship without any paid clergy, mindful that each person enhances worship. We worship without outward rites and ceremonies, reflecting our emphasis on the reality of the inner experience.
While waiting in the silence, a person may feel the leading of the Inner Light to offer vocal ministry. We listen with an open heart, realizing that a message may speak to us or give insight to another. After someone speaks, a period of silence is observed to allow time for each of us to listen deeply to the meaning and spirit behind the words.
If you have not joined us before, the following suggestions may be helpful. Most people dress casually. Your older children are welcome to attend the Meeting with you or, if younger, to attend First Day School (Sunday school). Childcare is also available at no charge. If you wish to bring your children, call a few days ahead to arrange their care. All children who are able to sit quietly may join the Meeting in the last 10 minutes.
Enter the meeting room quietly and sit wherever you like. Listen in the silence for what the Inner Light may reveal. This expectant waiting is the essence of Quaker worship. If you find yourself distracted by thoughts or noise, don't worry, but return your focus to the still center—center down, as Quakers say.
If you are led to speak, please stand and speak clearly. Messages are usually brief and offered only once, without preparation. Worshipful ministry arises from the Inner Light and not from a personal need to debate or instruct.
The silent Meeting for Worship continues until an appointed Friend shakes hands with those nearby to signify the conclusion of the hour of worship. You are invited to introduce yourself and join us for Fellowship and refreshments following the announcements.
If you wish to know more about Quakers, feel free to speak with people around you or to the Friend who closed the Meeting. You will also find information pamphlets on the table in the adjoining library.
While Quaker origins are Christian, many Quakers today consider themselves Christians, and many do not. We welcome those of all religious backgrounds as well as those who consider themselves as of no religion. We have among us those who are Christians, Jews, Muslims, and Buddhists, as well as others. We welcome people of all races, ethnicities, and gender orientations.
We invite you to share the experience of companionable silence with us and also to bring your children. Click here for more about what happens on Sunday.
Should you so decide, we look forward to your joining us on Sunday morning.